Beacon understands that our customers are looking to adopt new technology in order to support constantly evolving regulatory requirements and business goals for growth, both organic and through acquisition activity.
The implementation of the Oracle PeopleSoft solution must occur in both a timely and structured way such that the results meet the needs of a dynamic environment.
PEOPLESOFT FOCUSED
As an organization exclusively focused on implementing Oracle PeopleSoft applications, Beacon has developed a milestone and deliverables-based methodology geared specifically for these solutions. It includes quality assurance checkpoints on all milestones on an interim basis within each phase, as well as at the end of each phase. This allows for optimal resource planning, review of deliverables, risk management, and approval of plans to proceed.
OUR APPROACH
Our methodology is executed in five phases: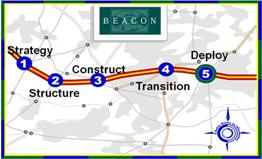 Strategy – The Strategy Phase establishes the high level strategies that serve as guidelines and principles for the project community as it executes project activities and makes decisions during the course of the project.
Structure – The Structure Phase entails gathering and documenting the organization's requirements and developing detailed implementation strategies with the result of creating the blueprint for system construct and deployment.
Construct – The Construct Phase entails creating the specific environment and system that is tailored to our customers' needs.
Transition – The Transition Phase focuses on the significant changes that are about to take place within the customer environment and ensures organizational readiness for the business and system transformation.
Deploy – The Deploy Phase releases the system for production usage.
CUSTOMER FOCUSED
In constructing our approach for each customer, we review our methodology in the context of how to best apply it to the project, taking into account the needs of our customer's business and the culture of the organization.