PeopleSoft HCM PUM Image 26 Released
By Jeff Pearsall May 2, 2018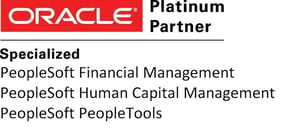 HCM PUM Image 26 was released this past week after a short delay from the previously communicated target date. Following is a list of some of the key features in this release:
General
Sensitive Data Masking – enhancement to data privacy functionality to mask the sensitive data elements of Date of Birth, National ID and Bank Account Number. Administrators can control the masking format (i.e. hiding the year of the Birthdate field) as well as when the fields are masked by security role and/or application component.
Acknowledgement Framework – provides an acknowledgement step that can be added to activity guides to request an employee or candidate to agree to specified terms and conditions. Administrators can create configurable acknowledgements and agreements across HCM products with flexible setup of text boxes, agreement or acknowledgment consents, validation, and automated audit trails. Digital signature is not a part of this enhancement. There is a Red Paper associated with this feature (document ID 2377140.1).
Person ID Delete & Correction – administrators can add specific PeopleSoft records to the Person ID Delete or Change functions that are not automatically included by default. Useful for including records where the Person ID is not stored in the standard EMPLID field.
Attachment Framework – the attachment functionality has been extended to ESS Name Change and Absence Requests to enable employees to include supporting documentation in the request. Approvers can access the attachment from the transaction approval page.
Talent Administration
Employee Snapshot – new tile added to the Talent Administrator's Fluid UI homepage to provide access to the employee snapshot dashboard.
Recruiting Solutions
Fluid Recruiting Homepage – provides the familiar Fluid UI landing page for recruiters and hiring managers, replacing the prior Classic version of Recruiting Home. Many of the tiles include live notification data that provide quick visibility to pending transactions such as Approvals and Today's Interviews. Beyond the homepage, several of the transaction pages are also now Fluid-enabled, such as Job Openings with related actions and embedded analytics.
Hiring Manager Navigation Collection - new Recruiting Activities tile has been added to the Manager Fluid UI homepage that aggregates all recruiting related menu items to a single view.
Time & Labor
Timesheet Quick Fill – can configure predefined combinations of values for certain timesheet fields. Employees can select the Quick Fill ID as a shortcut as opposed to entering each field individually.
Schedule Change Limits – administrators can control how far in the past managers are allowed to make changes to employee work schedules.
T&L Workcenter - enhanced Time and Labor WorkCenter pages to display in Classic Plus theme.
Payroll for North America
Fluid Self Service for Direct Deposit –ESS direct deposit functionality has been Fluid UI-enabled to allow employees to manage their direct deposit account setup.
Payroll for North America Tax Update
Consistent with the 9.2 maintenance model of including Tax Updates within Images, HCM Image 26 includes Tax Update 18-B.
NOTE - Tax Update 18-E will be delivered as a PRP on or around December 7, 2018. The image calendar was adjusted to 4 images per year, to reflect the requirements of the majority of PeopleSoft products, however in PNA and Benefits we need to deliver year end information, therefore the 'E' update will be a PRP.
Global Payroll
Element Browser Package Compare – can compare a selection of elements across databases before performing imports of element packages. Can compare an older version of the same element, another element of the same type or rules packages.
Self Service Navigation – new Global Payroll tile has been added to the ESS Fluid homepage to consolidate all payroll related transactions via a single menu, such as viewing payslips, managing bank account info and accessing year-end statements.
Adding Country Extensions – can now install Global Payroll Core or new country extensions (or both) to the current release with PeopleSoft Update Manager, which previously was only possible during a brand new (fresh) install or during an upgrade to a new release.
Single Touch Payroll for Australia – new Single Touch Payroll functionality streamlines reporting between the Business and Australian Taxation Office (ATO) and supports the mandatory compliance required by July 1, 2018 (as long as implemented by October 1, 2018).
Mobile Payslips - access via Fluid UI pages has been extended to a number of additional countries, including Australia, Argentina, Brazil, China, Hong Kong, India, Japan, Malaysia, Mexico, New Zealand, Singapore, Spain, Switzerland, Thailand and United Kingdom.
Profile Management
Manager Self Service – managers can review and update their team member's profile information via Fluid UI pages accessed via related actions. The Team Talent Profile tile can also be added to the MSS homepage to provide direct access to these pages.
e-Benefits
Life Event Documents – added Fluid Approvals capability for life event document uploads.
e-Compensation
Compensation Approvals – Extended HTML Email Approval functionality to compensation proposal approvals to enable approvers to address this workflow transaction directly from their email.
Other
US Federal HR transaction for Correct Personnel Action is now Fluid UI-enabled. Additionally, the Personnel Action Request page limits the Gender field to 'Male' or 'Female'.
Added integration between the CRM HelpDesk for the Human Resources application and HCM self-service components. HCM users can search for answers or create cases without navigating away from the current HCM transactions they are in.
These new features along with multiple other bug fixes can be reviewed on My Oracle Support, using the following helpful pages:
The next HCM PUM Image is scheduled for July 13, 2018, so check back then to see what new features will be available in HCM PUM Image 27.