Oracle Financial Services Specialization Achieved by Beacon Services
Beacon Recognized for Expertise in Financial Service Industry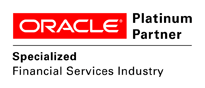 FRAMINGHAM, MA, July, 2013 - Beacon Application Services Corporation today announced it has achieved Oracle Financial Services Specialization in the Oracle Partner Network. Currently Beacon is one of only seven firms in the United States to achieve Oracle Financial Services Industry Specialization. Beacon has been an integrator of Oracle's PeopleSoft Enterprise Applications since 1992. Beacon also develops and supports software tools for managing PeopleSoft applications and environments,
"We've worked closely with Oracle's Alliance and sales teams for many years, helping to implement Oracle's PeopleSoft product suites for Banks, Insurance, Private Equity, Mutual Fund and other organizations throughout the country", said Madeline Osit, Beacon's Chief Operating Officer. We've specialized in this industry for many years, and are pleased to have achieved this Financial Services Industry Specialization."
Beacon is a Platinum level Partner with Oracle. Other Specializations earned by the firm include PeopleSoft HCM, PeopleSoft Financials and SCM, and PeopleSoft PeopleTools. Beacon's BEAM products for PeopleSoft application change management, BEAM Test and BEAM Change have achieved Oracle Validated Integration for PeopleSoft 9.1 and 9.2.