BEAM – Beacon Enterprise Application Manager for PeopleSoft
"Coping with the pace of change . . . is the single biggest challenge for PeopleSoft customers."
Source: IDC
BEAM – Tools for Managing and Testing PeopleSoft

The challenge for PeopleSoft Enterprise customers is to keep up with the continuous flow of changes to their systems. Whether applying patches and fixes, tax updates, and new images, or configuring regulatory changes and business process improvements, PeopleSoft applications constantly change.
Effective application management is achieved through:
Simplification
Standardization
Communication
Automation
Organizations have generally embraced these principles within their application business processes. However, the processes needed to manage changes to these applications are challenging, time consuming, and expensive. PeopleTools was designed to build and run apps, not manage them, especially across instances. And a lack of automation in key areas precludes effective change management.
BEAM tools are designed to help organizations deal with change:
Simplify the troubleshooting, testing and verification of changes to PeopleSoft applications
Standardize data compares and testing with common tools
Communicate (and be able to share) test results, compare results and differences
Automate by leveraging tools to enable people to focus on the important tasks
With BEAM for PeopleSoft, Beacon offers a comprehensive solution for PeopleSoft application management. BEAM tools help both technical and business users control and maintain PeopleSoft applications. BEAM helps automate, standardize, and simplify change management tasks, supporting PeopleSoft teams to analyze, change, verify, test and deploy changes to PeopleSoft systems.
All BEAM products are Oracle Validated applications for PeopleSoft through Release 9.2.
BEAM Change provides "traditional" application change management functions.
Project migration workflows
Enforces separation of duties
Approvals, audit and compliance requirements
Version control, snapshots, and rollbacks
BEAM Data Manager compares PeopleSoft data and metadata, across environments. Enables fast, precise, and granular examinations of PeopleSoft data and data structures, including PeopleCode and SQL objects, across environments, releases, and applications.
Identifies issues by finding differences through comparing data and metadata between environments. (Compare a component, or application engine programs, in DEV and TEST).
Any database can be source or target (Compare department tables in FIN to department tables in HCM).
Verify changes after migrations, Data Mover scripts, or other changes. (Verify data and structures are complete and correct BEFORE formal testing).
Compare PeopleCode and SQL, in minutes.
Verify Permission lists, Trees, and Security objects across multiple environments.
BEAM Test provides automated testing capabilities for all PeopleSoft applications to increase the breadth and efficiency of testing, allowing you to build and re-use environment-independent test scripts. PeopleSoft metadata integration facilitates script maintenance by identifying the impact of changes on scripts.
Patented metadata integration allows for easier test script maintenance and execution.
Data Sheets can accept data from Excel, Queries, SQL Statements and other sources
Testing environment made "active" with single mouse click
Data, scripts and environment definitions built and stored separately – one time – and combined at run time
Produces test and business process documentation, in addition to standard test pass/fail reports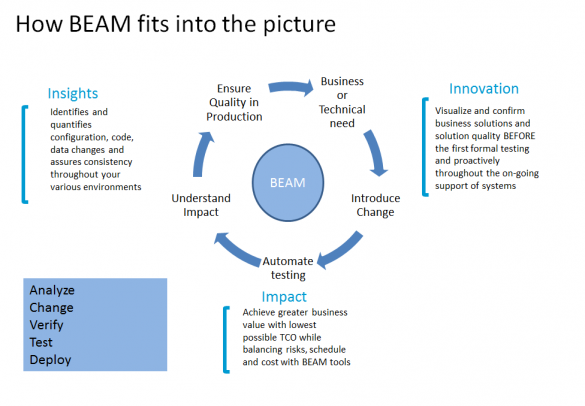 BEAM is a suite of software tools designed exclusively for Oracle customers to help support their PeopleSoft Enterprise applications by automating the end-to-end process of managing and tracking updates to the system, from troubleshooting through change, verification, test and deployment.
BEAM tools support all PeopleSoft applications – all applications built in PeopleTools: FSCM, HCM, Campus Solutions, and CRM.
All BEAM products have a "Zero-Footprint" design. No BEAM code or job results are stored or contained in any customer environments.
BEAM Change and BEAM Test support PeopleSoft applications running on Oracle, SQL Server and DB2 databases.
BEAM Data Manager supports PeopleSoft applications running on Oracle and SQL Server databases.
All BEAM tools have been Oracle Validated for PeopleSoft releases 9.0, 9.1 and 9.2.
(Beacon and Newmerix)
In late 2009,Beacon acquired a majority of the assets of Newmerix Corporation, including the Newmerix Automate!Suite of products designed to manage the entire lifecycle of change across PeopleSoft application environments. BEAM Test and BEAM Change are enhanced versions of the proven products we acquired.